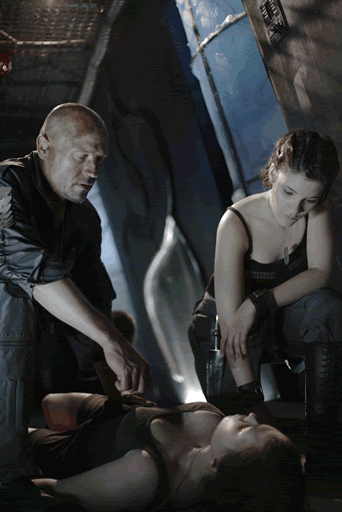 THE DARK follows the adventures of the crew of the Recluse as they fight to take back their corner of the universe from aliens and worse -- designer humanity. THE DARK keeps physics in mind at all times...no transporters, no artificial gravity. Space is stress, tactics, and tension - battleships bending long arcs of momentum, testing the limits of ship and crew...though the ship is eel slick and nearly invisible, the crew of the Recluse live among the pipes and cables of a spacecraft as cramped as a submarine. For them, each brush with the aliens costs a week of white knuckles and a month of flashbacks.
Delivery
THE DARK is a three-year journey into uncharted territory. It will be available online in weekly, 12-minute episodes and in print as a bi-monthly, full color comic book by ALCHEMICAL PRESS.
Real science fiction
THE DARK is unlike anything you've seen before. It is a leading wave on the new tide of webcasting.